More Republican Women Than Ever Are Running For Congress: Here's Why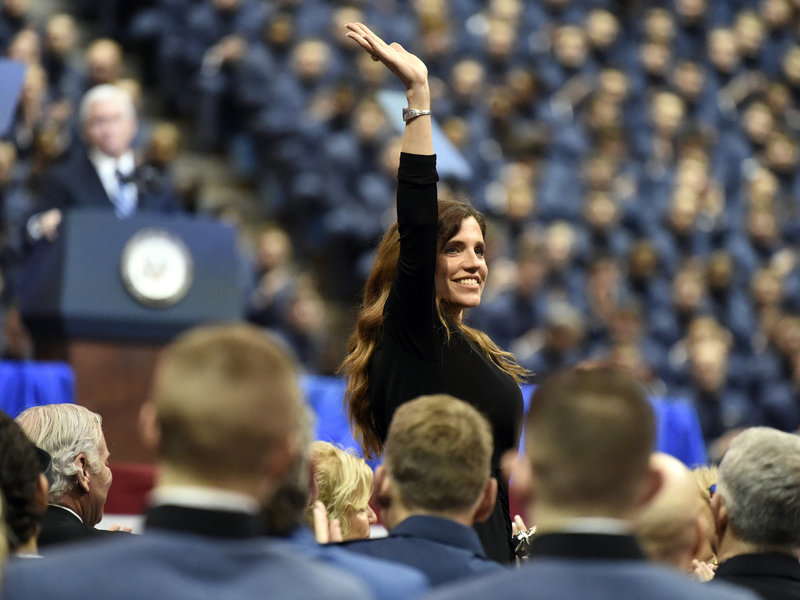 By Susan Davis
June 17, 20205:00 AM ET
A familiar tale is unfolding in American politics in 2020: women are once again setting records as candidates for Congress. While the 2018 midterms saw a historic wave of Democratic candidates and general election winners, this time the surge in candidates is among Republican women running for the House.
When the dust settled after the 2018 Democratic wave, the ranks of Republican women had been decimated. Just 13 were left standing. "It was really such a kick to all of the Republican women," Rep. Susan Brooks, R-Ind., told NPR, "We were really not expecting to lose as many as we lost."
Brooks, who is not seeking reelection, was tapped to serve as candidate recruitment chair for the House GOP's campaign operation. Along with Rep. Elise Stefanik of New York, they set out to recruit more women to run this year.
It's paid off.
"This year we're seeing more Republican women running than ever," said Professor Kelly Dittmar with the Center for American Women and Politics at Rutgers University. CAWP counts at least 217 Republican women who have filed to run for the House, with more state filing deadlines still to come. That's already close to doubling the previous record of 133 filed Republican women candidates a decade ago.
Dittmar says better recruiting is part of it, but also says many women were motivated to run because of what happened in 2018. "I do think there were some women who may have seen the narrative from the last cycle — which was really the attention to Democratic women's success and Republican women's decline in 2018 — and sort of wanted to change the narrative to say: 'The Republican Party isn't bad for women.'"
South Carolina Republican candidate Nancy Mace is one of those women. She is a state representative and a single mother of two. She told NPR her daughter was the first to encourage her to run after a Democrat won her local congressional district for a seat President Trump carried by double-digits. "She turned to me the day after the November 2018 election and said, 'Hey mommy, when are we going to take out [Democratic Rep.] Joe Cunningham?'"
Mace recently won her primary and will face Cunningham this November. She is one of many GOP women candidates with politically compelling biographies who are running this year, which also helped Mace earn the early endorsement of Minority Leader Kevin McCarthy. "I was the first woman to graduate form the Citadel, the military college of South Carolina, and could be the first Republican woman elected to Congress from the state of South Carolina," she said.
The party's candidates are also more diverse. Right now, 45 Republican women have cleared their primaries, putting the party on track to beat their previous record of 53 general election nominees back in 2004. Of those 45, nearly half are women of color. California Republican Michelle Steel, a first generation Asian-American is challenging a Democratic incumbent for an Orange County-based district. Steel currently serves in local office on the Orange County Board of Supervisors and she last won reelection with 63% of the vote, a cross-party appeal model she thinks she can replicate this November. "You know what? They see me with this accent, they see me, I'm a first generation. They all voted for me."
Often women candidates say they don't want the focus to be just on their gender. And that resonates with Texas Republican nominee Beth Van Duyne, who is running in an open-seat race to replace retiring Republican Rep. Kenny Marchant. "I think sometimes it's a cop out if we concentrate on a trait rather than a whole person, and I like to think we see beyond gender and we see beyond the things that divide us but we really look at what the best things are in all of us," she told NPR.
The gender divide is one of the starkest among key demographics in American politics right now under President Trump. According to the latest NPR/PBS/Marist poll, former Vice President Joe Biden has an 18 percentage point advantage among women over Trump — even greater than the 13 percentage point advantage that Hillary Clinton saw in 2016. In order to win in competitive and suburban races, Republican women candidates will have to convince women voters who oppose Trump to vote for them — a tricky path in a nationalized election climate.
It remains to be seen how many GOP women will ultimately win their races this November, especially when Democrats are heavily favored to maintain control of the House. Even if this is a record-breaking year for candidates, Republican women still have a longer way to go to find gender parity in their party in the House. Dittmar points out that women make up about 7% of House Republicans, compared to 38% of House Democrats. "It's not to rain on the parade, it's to say ok this is a start and let's continue and see if this momentum also continues not only through the general election but also in to future cycles," she said.
The record number of Republican women to ever serve at one time is 25. Republicans would need to net at least 15 seats to break that record this November.
Becchi Will Challenge Sherrill Instead Of Malinowski

Becchi will challenge Sherrill instead of Malinowski
Republican congressional candidate will switch races and run in NJ-11
By David Wildstein, January 19 2020 12:36 pm
Rosemary Becchi will drop her bid for Congress in New Jersey's 7th district and instead challenge Rep. Mikie Sherrill (D-Montclair) in the next-door 11th district, the New Jersey Globe has learned.
Becchi will switch from a challenge to Rep. Tom Malinowski (D-Ringoes) — and a primary against Senate Minority Leader Thomas Kean, Jr. (R-Westfield) – for what is increasingly looking like a clear path to the GOP nomination against Sherrill.
Her entrance into the race provides Sherrill with the kind of well-financed  opponent that Republicans had been searching for.
So far, the only Republican to emerge as a challenger to Sherrill is Larry Casha, a former Kinnelon councilman and GOP state committeeman.
Some GOP county chairs have reached out to Casha, who appears willing to drop his House bid.
"I'm still digesting the entire thing right now," Casha told the New Jersey Globe.
A potential self-funder, trucking company executive Jerry Langer, had explored a race against Sherrill but has not taken any steps to run.
She has not yet released her 4th quarter 2019 fundraising numbers but Becchi had raised $387,712 as of September 30, her Federal Election Commission reports show.
Sherrill has raised more than $2.6 million for her re-election campaign, including $747,000 in the last quarter, and has $2.2 million cash-on-hand.
So far, the only Republican to file is Robert Crook, an accountant who won less than 1% as an independent in 2018.
"The partisan impeachment process in Congress has been eye opening to all of America.  It shows clearly that Republicans must take back the House of Representatives," Becchi said. "Democrat Mikie Sherrill, just like Tom Malinowski, have focused their efforts on destroying a Presidency, not fighting for solutions that we in New Jersey desperately need.
"For that reason, and after being approached by and speaking with multiple Republican leaders in NJ, I have decided to consider running for Congress in New Jersey's 11th Congressional District," Becchi said. "I will make a decision early this week."
She has told party leaders that she is all-in for the race against Sherrill.
Becchi's hometown, Millburn, is in the 7th, but she lives just two miles outside the 11th district.
Carpetbagging won't be an issue for Becchi, since Sherill lives outside her own district in the part of Montclair represented by Rep. Donald Payne, Jr. (D-Newark).
A former tax counsel to the U.S. Senate Finance Committee, Becchi entered the race against Malinowski last July.  Kean, the son of former Gov. Tom Kean and a legislator since 2001, entered the race in April and had raised about $1 million as of his last report.
Kean, the clear front runner, had dominated local GOP endorsements in the 7th district and had the support of House Minority Leader Kevin McCarthy.
With Becchi out, Kean has now essentially cleared the field for his race against Malinowski, a freshman who ousted Rep. Leonard Lance (R-Clinton Township) in 2018.
The other two candidates seeking the Republican nomination, human resources executive Tom Phillips and businessman Rob Trugman, are not serious contenders.
Before going to work for the U.S. Senate, the 53-year-old Becchi was a staff attorney in the office of the chief counsel of the Internal Revenue Service.  She later worked for a top accounting firm, for Citigroup and Fidelity Investments, and has been a partner at two major law firms.  She now works for Brownstein Hyatt Farber Schreck, a Washington, D.C law and lobbying firm.
Becchi is the founder of Jersey First, a grass roots economic advocacy group.
Sherrill raised almost $8.5 million in her bid to flip New Jersey's 11th district in 2018 and outspent her Republican opponent by an almost 5-1 margin for a seat that Republicans had held since 1984.
It was Sherrill's early fundraising prowess – she had raised more than $1.2 million by the end of 2017 – that helped frighten twelve-term incumbent Rodney Frelinghuysen out of the race.  With a warchest of under $1.2 million, Frelinghuysen announced his retirement weeks after Sherrill announced her own fundraising numbers.
She won her House race by 46,262 votes, 57%-42%, against Republican assemblyman Jay Webber (R-Morris Plains) in 2018.
The 11th district has 1,500 more Republicans than Democrats and Donald Trump won it by 1% in 2016 — down from 24,176 when the district was drawn after the 2010 census.
This story was updated with comment from Becchi and Casha.
Hinson Raises Nearly $1.1 Million in Iowa's 1st Congressional District Race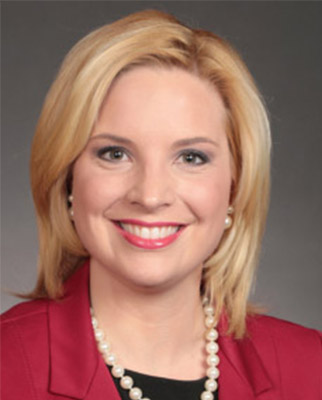 State Rep. Ashley Hinson, R-Marion, a candidate for the Republican nomination in Iowa's 1st Congressional District, announced that she raised nearly $1.1 million for her campaign since she announced in May 2019. This amount includes more than $430,000 in the fourth quarter of 2019.
Iowa donors made up for 78 percent of her fundraising haul and the fourth quarter is her strongest fundraising quarter to date. She begins 2020 with more than $734,000 on hand.
"I am honored and humbled by the outpouring of support for my campaign," said Hinson. "It's clear that our message of bringing Iowa common sense to Washington is resonating with voters across Iowa."
"We are excited by the momentum that continues to build for Ashley's campaign," said Hinson campaign manager Jimmy Peacock. "Voters know that it's time for the 1st district to have a representative who puts people before politics and knows how to get results."
Hinson's financial supporters include Ernst Victory Iowa PAC (U.S. Sen. Joni Ernst), Majority Committee PAC (Majority Leader Kevin McCarthy), Eye of the Tiger PAC (U.S. Rep. Steve Scalise), Cowboy PAC (U.S. Rep. Liz Cheney), E-PAC (U.S. Rep. Elise Stefanik), CMR PAC (U.S. Rep. Cathy McMorris-Rodgers), Susan PAC (U.S. Rep. Susan Brooks), Cut the Bull PAC (U.S. Rep. Carol Miller), Martha PAC (U.S. Rep. Martha Roby), The Freedom Project (Former Speaker John Boehner), ANN PAC (U.S. Rep. Ann Wagner) and VIEW PAC.
National political forecasters believe the 1st congressional district will be one of the most competitive races in 2020. The Cook Political Report has rated IA-01 as "Toss Up".
Hinson has a record of winning tough elections. She won in 2018 in a swing district to help hold the Iowa House majority and outperformed the Republican ticket by 5-8 points across Iowa House District 67. She won 9 of 13 precincts in her district despite Democratic outside groups outspending Republican outside groups.
An Iowa native, Hinson is the first woman to represent Iowa's 67th House District, which covers Hiawatha, Robins, Cedar Rapids and Marion. Prior to serving in the Iowa House, Hinson was an award-winning reporter and anchor for KCRG-TV9 in Cedar Rapids. She currently lives in Marion with her husband Matt and their two sons.
Republicans Want To Elect More Women — Just Not Fewer Men
Becchi (pronounced "Becky") is running for one of the House seats Democrats snapped up in the blue wave of 2018 and that Republicans are eager to snatch back in 2020. She is a white-collar professional and a mother of three in a wealthy, white suburb where a lot of swing voters share her same background — the kind of woman Republicans say they are desperate to recruit, to speak to the voters they are desperate to win back.
But when Becchi met with a party official at National Republican Congressional Committee headquarters in Washington, he asked her not to run.
NRCC officials already preferred another Republican in her New Jersey district, he said: Tom Kean Jr., the son of that state's popular former governor from the '80s.
"One of the first things they said to me was, 'Why don't you run in a different district?'" Becchi fumed in a recent interview. "Well, guess what? I don't live in another district."
This is a time when the GOP supposedly wants more Becchis. In 2018, the forces that made the midterms the Year of the Woman for the Democrats spelled total catastrophe for Republicans. White, suburban women with college degrees fled the party in droves. The bloodletting left only 13 Republican women in the House, a number so low that Mitch McConnell (R), the Senate majority leader and no one's idea of an equality champion, promised to do "a better job of recruiting women candidates and getting them elected."
There's no shortage of theories about what has to change and of big money in search of solutions. This cycle, the party is reportedly on track to recruit more women than ever to run for office, and a few donors have poured millions into a new super PAC, Winning for Women, which hopes to ferry those recruits through the primaries.
Becchi's clash with the party, though, cuts to a more elemental problem: If Republicans want to elect more women, they'll have to elect fewer men.
"To actually make a difference," said Cam Savage, one of a handful of Republican strategists trying seriously to elect more women, "people are going to have to go out and steal some seats."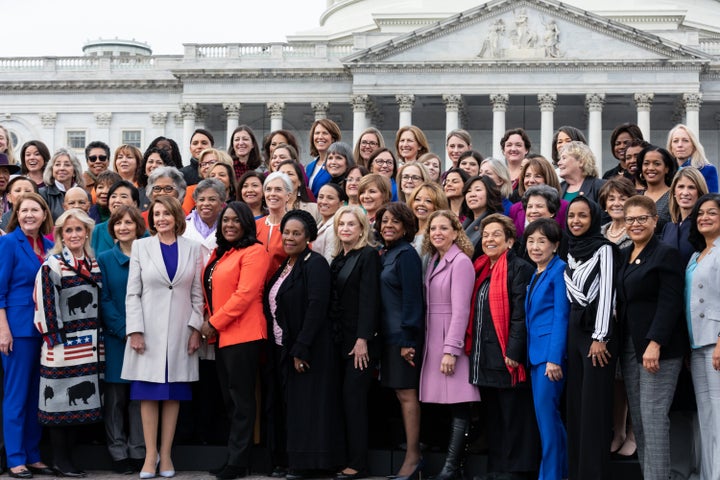 Republican Women Could Punch Above Their Weight in the New Congress
WASHINGTON – Although Republican women are scarce in the newly convened 116th Congress, they could punch above their weight.
Used to being outnumbered, female lawmakers on both sides of the aisle have a history of working collaboratively together.
That could help the 13 Republican women in the House adjust to both the loss of their party's control and to their diminished ranks. Democrats took the House with help from a record-breaking 89 female members. By contrast, the number of Republican women dropped from 23 to the lowest number in a quarter century.
"There are just some incredibly deep friendships that some of my female colleagues have with others across the aisle," said Indiana Rep. Susan Brooks, the Republican who co-led the bipartisan Congressional Caucus for Women's Issues in the last Congress. "And I think we'll still be able to get things done."
Brooks, for example, has teamed up in the past with Rep. Anna Eshoo, a California Democrat, to improve the nation's ability to respond to a bioattack or disease outbreak.
After helping lead the women's caucus with Democratic Rep. Lois Frankel of Florida, Brooks reached out to her to cosponsor successful legislation to protect young athletes from sexual abuse.
And Brooks has forged a bond with New York Rep. Yvette Clarke, a Democrat on the House ethics panel Brooks chaired, which deals with difficult issues involving fellow lawmakers.
"Women have more of a tendency to focus on … What's the goal? What's the policy? How do we get this done?" said Brooks, whose staff is mostly female. "I think, overall, the women in Congress that I've dealt with have come at it from a much more pragmatic, less political, viewpoint to solving problems."
That's a sentiment shared by a majority of women in the 114th Congress interviewed by the Center for American Women and Politics at Rutgers University a few years ago. Women believed they were more likely than their male counterparts to work across party lines, less likely to focus on getting credit or other "ego trappings."
Because women are still a minority in Congress, "you better stick together," Minnesota Sen. Amy Klobuchar, a Democrat, told the center.
Debbie Walsh, the center's director, said her favorite example of this is not a piece of legislation but the difference between the annual congressional baseball and softball games. While Republican men suit up against Democratic men on the baseball diamond, women of both parties band together to try to beat female news reporters at softball.
They also team up for more serious missions.
Rep. Susan Davis, D-Calif., has regularly led bipartisan groups of women to visit troops in Afghanistan for Mother's Day. The women have delivered handmade cards to service members, discussed the challenges facing deployed mothers, and met with Afghan female police and soldiers.
Davis told the Center for American Women and Politics that the trips have multiple benefits.
"Not only the bonding amongst us, but we worked on bills together," she said of those who have traveled together.
Two women who will have a chance to show how well they can collaborate are Reps. Kay Granger and Nita Lowey, The Texas Republican and the New York Democrat are taking over the top spots on the powerful House committee that writes the annual spending bills. It will be the first time women have led the House Appropriations Committee, or any other House panel of significant stature.
Walsh said the formal and informal ways that congressional women work together can build the relationships that are necessary in legislative bodies.
"It allows you not to demonize each other and just be able to have some conversations," she said. "It may not solve all the problems, but it certainly can't hurt."
Martha Roby bill to combat horrific crimes against children passes House
America's children are one step closer to being a littler safer after a bill sponsored by Alabama 2nd District U.S. Rep. Martha Roby passed the House on Tuesday.
H.R. 6847: the Preventing Child Exploitation Act of 2018, combats crimes such as child pornography and global sex tourism, and contains tools to fight child abuse and strengthens protections for children under the law. It also renews funding for the National Sex Offender Registry.
"It is our responsibility here in Congress to provide the strongest, most effective tools available to confront, fight, punish, and ultimately prevent horrific crimes against children," said Roby. "Our children are perhaps the greatest and most precious responsibility given to us. They are vulnerable, innocent, and wholly dependent upon us to protect them. Because of this, both our legal protections for children and the punishments for those who do them harm must be as strong as possible."
The bill itself contains four Judiciary Committee bills that have previously been approved by the House of Representatives:
H.R. 1842: the Strengthening Children's Safety Act — makes communities safer by enhancing penalties for sex offenders who fail to register in the national sex offender registry and then commit a crime of violence. It also ensures enhanced penalties for child exploitation crimes apply equally to all dangerous sex offenders by assuring those convicted of certain sex offenses under the Uniform Code of Military Justice are subject to the enhanced penalties applicable to recidivists under current law.
H.R. 1862: the Global Child Protection Act — authored by Rep. Roby, the legislation combats global sex tourism by closing loopholes that allow child predators to go unpunished for their abuse of children overseas. Specifically, the bill expands the conduct covered for child sexual exploitation cases that involve abuse occurring abroad to include sexual contact. It also broadens the offenses covered in the recidivist enhancement provisions in current law to protect the youngest of child victims.
H.R. 1761: the Protecting Against Child Exploitation Act — protects child pornography victims by remedying a federal court ruling in United States v. Palomino-Coronado. This decision allowed a defendant to walk free from production of child pornography charges, despite photographic evidence that he had engaged in sexual abuse of a seven-year-old child, because the court found that he lacked the specific intent to produce child pornography prior to abusing the child. To address this loophole in the law, the Protecting Against Child Exploitation Act adds additional bases of liability to the crime of child pornography production to prevent this heinous crime and bring criminals to justice.
H.R. 1188: the Adam Walsh Reauthorization Act — reauthorizes the two primary programs of the Adam Walsh Act—the Sex Offender Registration and Notification Act and the Sex Offender Management Assistance Program—for five years and makes targeted changes to make the system more efficient and just. These programs help prevent child abuse by ensuring the public has access to information on known sex offenders who may live in their neighborhoods.
The bill passed the House by a voice vote. It now moves to the Senate for consideration.
Watch Roby discuss the bill on the House floor:
Martha McSally makes it official: She's running for the Senate
U.S. Rep. Martha McSally, a two-term Republican from Tucson and former Air Force combat pilot, on Friday officially entered an already volatile race for Arizona's open U.S. Senate seat, setting the GOP field for the drive to the Aug. 28 primary.
In a video posted to YouTube Friday morning, McSally plays up her Air Force background, including being the first female pilot to fight in combat, and presents herself as a member of Congress who gets things done in an age of gridlock.
She also signals her intent to align herself with President Donald Trump — in tone and policy — whose backing could be crucial in the Republican primary.
"Like our president, I'm tired of PC politicians and their BS excuses," she says on the video. "I'm a fighter pilot and I talk like one. That's why I told Washington Republicans to grow a pair of ovaries and get the job done. Now I'm running for the Senate to fight the fights that must be won."
McSally's Senate bid had been widely anticipated from almost the moment on Oct. 24 that incumbent U.S. Sen. Jeff Flake, R-Ariz., announced he would retire rather than face re-election this year. 
Handel Wins Georgia Special Election
Republican Karen Handel has won Georgia's special election, holding off the most well-funded House candidate in history and deflating Democrats who yearned for a special election rebuke to President Donald Trump.
Handel, who previously served as Georgia's secretary of state, had 52 percent of the vote to Democrat Jon Ossoff's 48 percent when the Associated Press called the race late Tuesday night after a six-month campaign in which Republicans hammered Ossoff as an ill fit for a traditionally conservative district.
Handel Campaign Raises $1 Million Online in a Week
On week after the primary in Georgia's sixth congressional district, the Handel campaign raised over $1 million in online contributions. The race pitted 18 candidates against one another and ended with no outright victor, triggering a runoff competition between Democrat Jon Ossoff and Republican Karen Handel.
Handel Easily Advances to June Run-off in Georgia
Karen Handel, who was endorsed by VIEW PAC,  easily advanced to the GA-06 run-off last night.   As expected, Democrat Jon Ossoff led the field with 48% of the vote.  Handel finished in second place with 20%, easily besting her GOP rivals.  With 100% of the precincts reporting, Ossoff fell just short of the 50% threshold required to avoid the run-off.  Handel, however, finished very strong, outpacing her nearest GOP rival, Bob Gray, by nearly 10 points.
Full results:
Jon Ossoff (D):                  48%
Karen Handel (R):            20%
Bob Gray (R):                     11%
Judson Hill (R):                  9%
Dan Moody:                        9%
Others:                                3%